Sonia looks for work outside the Classroom with Aspire Recruitment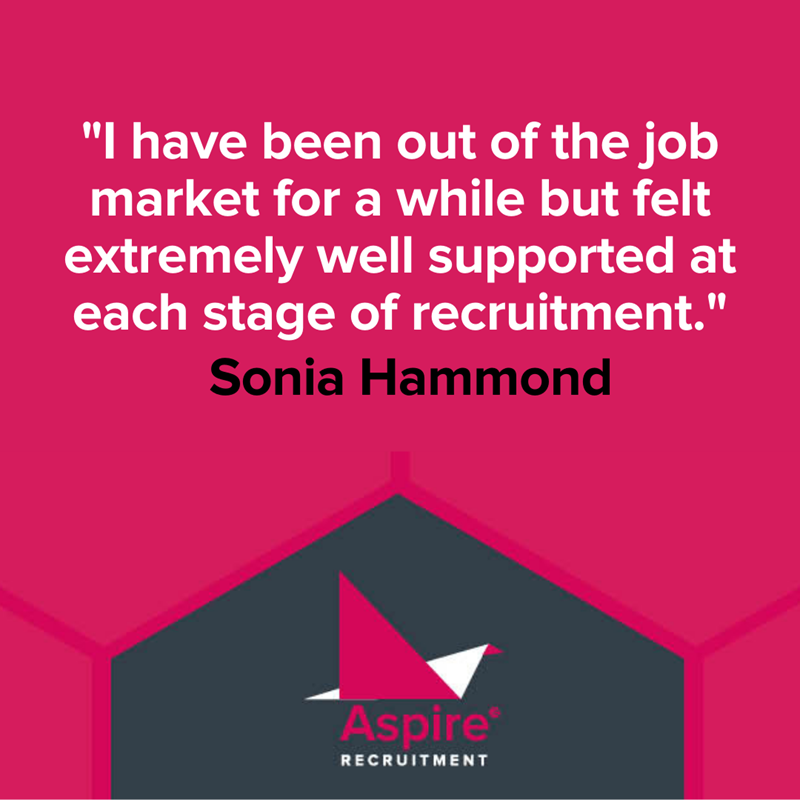 Sonia Hammond is a semi-retired teacher, looking for work outside the classroom for a change of pace, to avoid Covid, and also to try and get a better work/life balance. Our talented team at Aspire Recruitment managed to get her a role that ticked all her boxes!
Sonia heard about Aspire Recruitment through a family member who had also signed up with us. Sonia worked with recruitment consultant Frank, who listened to her needs and assessed which roles would work best for her. Frank found her a role within the Growth Company as a Project Support Coordinator, a role that allows her to work from home for the majority of the week, giving her a much-improved work/life balance.
We spoke to Sonia about her experience with Aspire Recruitment, and she was very happy with the support she received:
"I have been out of the job market for a while but felt extremely well supported at each stage of recruitment. I worked with Frank Kinrade and I felt as if he assessed my needs and listened. I would like to give a shout out to Frank- I would not have considered the role … without his advice. The role has been a perfect fit for me. Thank you, Frank! The team that I am working with has been very welcoming and I have enjoyed connecting with and meeting new people. I would recommend Aspire and already have done to a few of my colleagues."
With the help of Frank and the rest of our friendly team, Sonia found the job that fit her requirements perfectly. If you're looking for work, our team is ready to help you find that perfect role. Contact them today by clicking here- your new career could only be a few conversations away.
Aspire Recruitment
Lee House
90 Great Bridgewater Street
Manchester
M1 5JW