Staff shortages are occurring across a wide variety of sectors- what can we do to help?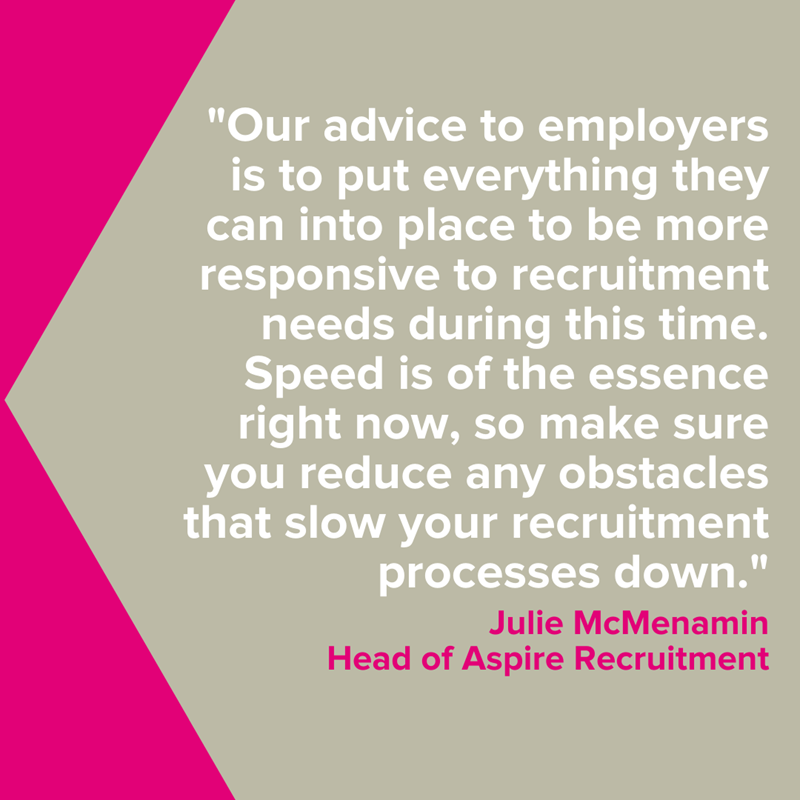 Julie McMenamin, Head of Aspire Recruitment, said:  
"With a very high percentage of people falling ill across all sectors – whether that's owing to Omicron, flu, mental health issues or other seasonal winter bugs - employers are finding it hugely challenging and resource intensive to keep up with the current flow of sickness. This is coupled with the fact that the employment market is booming but there's a candidate shortage. We've recently seen during one week in December for example, a 488% year-on-year increase in job postings matched with just a 115% increase in applications. As a result, we're finding it's taking employers much longer to fill roles and more headhunting skills are being deployed to encourage interest. Candidates are being headhunted and companies are having to pay more to keep their staff, with lots of companies counter offering.
"Our advice to employers is to put everything they can into place to be more responsive to recruitment needs during this time. Speed is of the essence right now, so make sure you reduce any obstacles that slow your recruitment processes down.  For example, rather than have several interviews for a role, consider making a reduction because people are being put off applying or simply looking elsewhere. With regards to sickness levels, have a backup plan in place so that you can implement support at very short notice.
"Aspire Recruitment works with businesses across a wide range of sectors throughout Greater Manchester and while organisations like ours aren't immune to the current wave of sickness and the challenges they are presenting, we have trained our team members to work across different areas and be responsive to the needs of a wide range of sectors. Anyone who would like assistance can contact the Aspire Team on 0161 245 4945 for a discussion about their recruitment needs." 
Aspire Recruitment
Lee House
90 Great Bridgewater Street
Manchester
M1 5JW