Aspire Recruitment speaks with Eleanor Devlin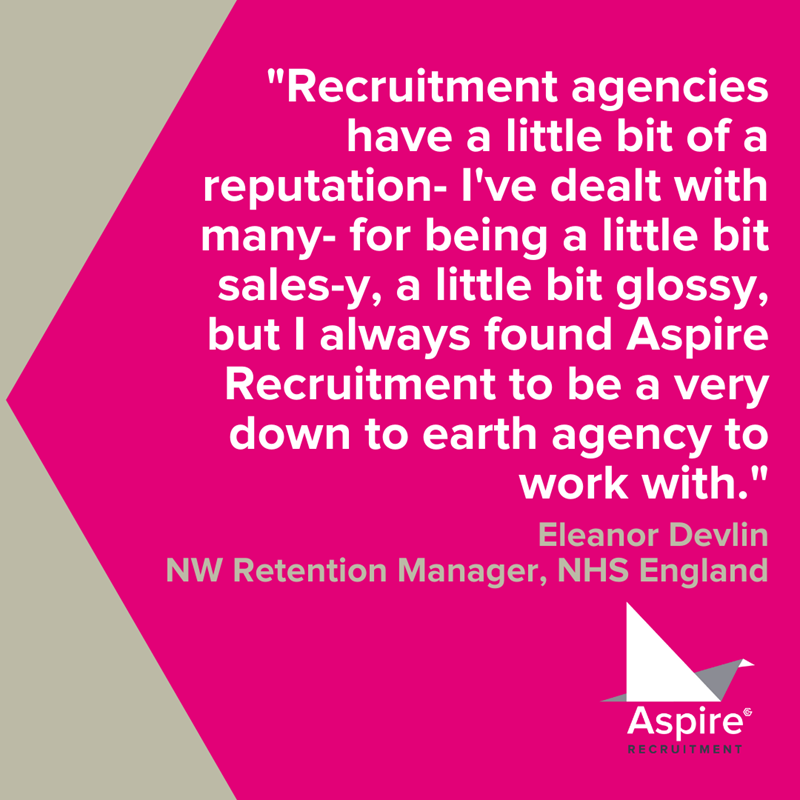 Previously, we've been proud to work with a mass Vaccination site in January, where we initially provided over 40 candidates for Vaccinator and Vaccination Support Assistant roles. Since then, we've also provided around 70 temporary staff members, working a range of shift patterns on a weekly basis.
We've checked back in with Eleanor Devlin, our main point of contact, to find out how she found the process. Eleanor was previously the Deputy HR Director for Tameside and Glossop NHS Trust and is now the North-West Retention Manager for NHS England.
Where did you first learn about Aspire Recruitment?
So, when we were trying to set up the vaccination program, it was quite a big task. We only had a few weeks to set up a pretty big program of work, and we were talking to the Greater Manchester health and social care partnership, and I think it was Janet Wilkinson, our HR director, mentioned Aspire Recruitment. Aspire Recruitment have supported with the nightingale hospital previously, supplying us with over 70 members of temporary staff, and Janet suggested working with the Growth Company and described the work they did, and that fitted quite nicely for us, because we needed agencies involved, as we needed flexibility of workforce, and to bring people on very quickly. But we were quite interested in linking to an agency that had sustainable roots, rather than a normal commercial agency.
Aspire Recruitment sets out to do things differently- What has been your experience with Aspire Recruitment?
So, I would definitely say that they are very different to most of the recruitment agencies that we deal with. Recruitment agencies have a little bit of a reputation- I've dealt with many- for being a little bit sales-y, a little bit glossy, but I always found Aspire Recruitment to be a very down to earth agency to work with.
I worked with Will and Freya and Julie, and I always felt they were a very trustworthy agency, whatever they set out and said they would do, they did it, I always felt like I could trust what they said, I didn't feel like I was "sold" anything, and we found them very reliable as an agency. The staff we had through from them were broadly of good quality, so I would certainly recommend them to anyone.
The fact that they're linked to the Growth Company, and the fact that they're not for profit really appealed to us, because we do have a fairly big agenda around sustainability, and giving back to the community, so we were aware that by linking with Aspire Recruitment, we were sort of feeding into that agenda, which we liked. But generally, even without that, we've always found Aspire Recruitment to be very down-to-earth, and very reliable, and also we used them for the mass vaccination site at the Etihad, but then we also started to use them across primary care, too.
Did you find it difficult to hire enough people for your vacancies before working with them?
It wasn't difficult for us to fill the roles that Aspire Recruitment provides- so vaccinators, vaccine support assistants and administrators, they're not difficult to find, but we had to onboard them so quickly, as the way the NHS works, we're bound by the pre-employment standards and our own systems, it can take a little while to on-board someone.
So certainly at the beginning at the vaccination program, when we only had a few weeks, we knew that we needed 20 extra vaccinators and 20 extra vaccine support assistants, and we can't do that with our own resources at that time, but Aspire Recruitment had them ready. So it was more for speed, rather than the fact we couldn't recruit them ourselves, if that makes sense.
Would you recommend Aspire Recruitment's services to others?
Absolutely, yeah! We would recommend Aspire Recruitment to any provider looking for that level of staff within GM, not necessarily just within healthcare. We've got links to social care colleagues, and I've recommended Aspire Recruitment to them!
Are there any specific people at Aspire Recruitment that you worked with, that you'd like to give a shoutout to?
I would definitely give a shout out to Will, because he has been phenomenal, he worked really hard. We first made contact with Julie, who I believe is the account manager, and she passed us on to Will, so most of the work was done with Will- oh, he's been brilliant, really responsive, really friendly, really helpful, and Freya, who's come into the project further down the line, has also been brilliant.
Aspire Recruitment
Lee House
90 Great Bridgewater Street
Manchester
M1 5JW